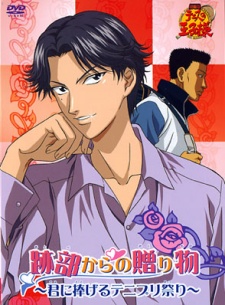 Atobe's Gift (Tennis no Oujisama: Atobe Kara no Okurimono) is a mini movie from the anime/manga Prince of Tennis.
Hyotei Gakuen's ridiculously rich and outrageous captain, Atobe Keigo, has organized a special event for the day known as the Super Tennis Festival, the first tennis carnival. All of the regional Junior High tennis teams, from St. Rudolph to Rikkaidai, have been invited. Held in a grand arena complete with haunted houses, variety acts, and sport contests, from soccer to ping pong and food stands, this lavish carnival promises to be full of fun. However the main event of the day is an obstacle competition between the schools; and with their pride, and a set of high-class tennis equipment on the line, no one wants to lose. When it's neck and neck to the finish line, who will win, and just what is Atobe's true motive for organizing this day of events?
Ad blocker interference detected!
Wikia is a free-to-use site that makes money from advertising. We have a modified experience for viewers using ad blockers

Wikia is not accessible if you've made further modifications. Remove the custom ad blocker rule(s) and the page will load as expected.