The Anikuji Collections are collections of merchandise sold for the Prince of Tennis franchise. They are released by Animate.
Anikuji Christmas Collection 2014
Edit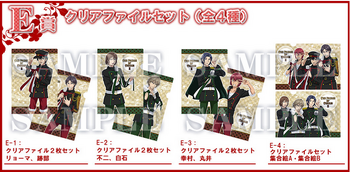 Anikuji Collection 2014
Edit
Anikuji Collection 2013
Edit
Anikuji Collection 2012
Edit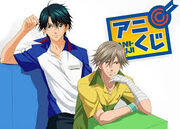 A. Wall Clock
Yukimura
Shiraishi
B.Album CD
Classic Cover Songs A
Classic Cover Songs B
C. Doubles CD
Oishi & Kikumaru
Oshitari & Mukahi
Yukimura & Sanada
Chitose & Tooyama
D. Wall Pocket
Seigaku
Hyoutei
Rikkai
Higa
Shitenhouji
Select Characters Illustration
E. Single CD
Ryoma
Tezuka
Atobe
Kite
Taneshi
Shiraishi
F. Earphone Jack Accessory
St. Rudolph
Yamabuki
Rokkaku
Ginka
Fudomine
Anikuji Collection 2011
Edit
A. Jumbo Cushion
Echizen (front) & Yukimura (back)
B. Jumbo Cushion
Shiraishi (front) & Tezuka (back)
C. Tapestry
Atobe
Tokugawa
D. Mug Cup E. Strap
Echizen
Tezuka
Atobe
Yukimura
Shiraishi
Tokugawa
F. Clear File Set
Ryoma & Tokugawa
Tezuka & Shiraishi
Atobe & Yukimura
Anikuji Collection 2010
Edit
A. Portable Speakers
Seigaku Version
Rikkai Version
B. Christmas Song Collection CDs
Red Version (Ryoma, Tezuka, Fuji, Shishido, Ootori, Yukimura, Kite)
Green Version (Inui, Kaidou, Atobe, Shiraishi, Yagyuu, Marui, Fukushi)
C. Christmas Song Doubles CDs
Echizen Ryoma & Fuji Syuusuke
Inui Sadaharu & Kaidou Kaoru
Shishido Ryou & Ootori Choutarou
Yagyuu Hiroshi & Marui Bunta
D. CD/DVD Storage Cases
Seigaku
Hyoutei
Rikkai
Shitenhouji
Higa
Captains Set
E. Christmas Song Singles CDs
Tezuka Kunimitsu
Atobe Keigo
Yukimura Seiichi
Shiraishi Kuranosuke
Kite Eishirou
Fukushi Michiru
F. Mini Towels
St. Rudolph
Yamabuki
Rokkaku
Ginka
Fudomine
Ad blocker interference detected!
Wikia is a free-to-use site that makes money from advertising. We have a modified experience for viewers using ad blockers

Wikia is not accessible if you've made further modifications. Remove the custom ad blocker rule(s) and the page will load as expected.