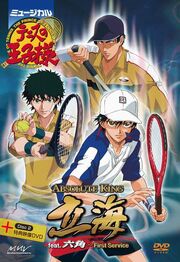 Covers the doubles matches of Seigaku against rival school, Rikkai Daigaku Fuzoku.
Year: 2006 - 2007
Date & Place: 13 December – 25 December: Nippon Seinen-kan Hall (Tokyo), 28 December 2006 – 8 January 2007: Osaka Mielparque Hall (Osaka), 11 January – 14 January: Kagawa-ken Kenmin Hall (Kagawa), 18 January – 21 January: Sunshine Theatre (Tokyo), 25 January – 27 January: Nagoya Shimin Kaikan-chuu Hall (Nagoya)
Director/choreographer: Yukio Ueshima
Music: Toshihiko Sahashi
Screenplay: Yuuji Mitsuya
Special notes: Debut of Tomo Yanagishita as Kaoru Kaidoh, Ryou Kawamoto as Kachiro Kato, and Kouichi Eguchi as Katsuo Mizuno. Guest stars members of Rokkaku Chuu.
Rikkaidai
Edit
Ad blocker interference detected!
Wikia is a free-to-use site that makes money from advertising. We have a modified experience for viewers using ad blockers

Wikia is not accessible if you've made further modifications. Remove the custom ad blocker rule(s) and the page will load as expected.